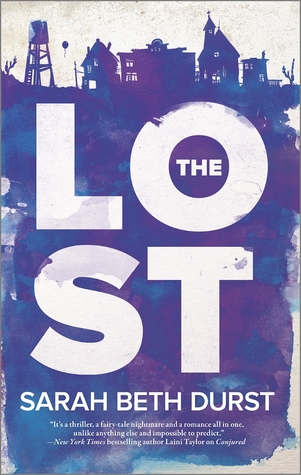 I received this book free from the publisher through Netgalley in exchange for an honest review. It is available May 27th.
Here's the description:
Award-winning author Sarah Beth Durst has been praised for her captivating novels that merge the darkly imagined with very real themes of self-discovery and destiny. In The Lost, we'll discover just what it means to lose one's way…. 
It was only meant to be a brief detour. But then Lauren finds herself trapped in a town called Lost on the edge of a desert, filled with things abandoned, broken and thrown away. And when she tries to escape, impassible dust storms and something unexplainable lead her back to Lost again and again. The residents she meets there tell her she's going to have to figure out just what she's missing—and what she's running from—before she can leave. So now Lauren's on a new search for a purpose and a destiny. And maybe, just maybe, she'll be found…. 
Against the backdrop of this desolate and mystical town, Sarah Beth Durst writes an arresting, fantastical novel of one woman's impossible journey…and her quest to find her fate. 
Here's my review:
What I'd Pay: $15+
I loved this book. Really loved it.
This book is not going to be for everyone, but it was perfect for me. It hit home on so many levels. First of all, its set in the southwestern US, an area I've grown up in and road tripped through multiple times. Her descriptions of the scenery on the very fist page were so spot on that it immediately felt like home to me and I could picture it so well:
"In front of me, the highway lies straight, a thick rope of asphalt that stretches to a pinprick on the horizon. On either side of the highway are barbed-wire fences that hem in the few cows that wander through the scrub-brush desert. Cacti are clustered by the fence posts. Above, the sun has bleached the blue until the sky looks like fabric stretched so thin that it's about to tear. There are zero clouds."
In addition to the great descriptions in this book, the ideas were so creative to me that I just couldn't stop reading. A lost town full of lost people all trying to figure out what it is they need to find so they can return to their real lives. The poor main character starts off her journey by trying to escape the awful truth about her mother's health that she can't deal with – so she just drives off instead of heading to work. And keeps driving. Until she finally realizes she is in need of gas, so she stops at a town in the middle of nowhere. The town is full of some legitimately shady and crazy characters, and the poor main character is totally confused by their cryptic comments. Just as she is about to get some answers from the one man that supposedly helps people get home, she manages to somehow scare him away. This leaves her she's stuck in this mystical town with a bunch of desperate people who are now angry at her for scaring off their one hope at getting out.
The desperation and confusion of the characters combined with the ominous and desolate town setting is such an emotional combination. Some details are so poignant, such as the main character finding her old stuffed rabbit that she'd lost years ago. I absolutely loved two other main characters: Peter, who's lonely but hopeful nonetheless, and Claire, who's too old for her years and just wants a family. They are odd, like most people in Lost, but ultimately they are looking for the same thing: to feel loved and needed. The entire journey was so wonderful, creepy, and slightly odd, that I just couldn't put the book down. I had to know more about the characters and the town of Lost. The writing style is short and abrupt at times, and it is told in first person present, but both of those aspects actually enhanced the tone of the book for me and made everything feel more immediate and intense. There are obvious references and parallels to Peter Pan (e.g. a main character named Peter who finds lost people), and tons of literary references because Peter loves to quote things. There is some romance in the book, but I would not consider this a romance – this is a book about finding oneself and accepting things in life.
I cried so much at the end, but I was satisfied enough with the ending not to be upset at the cliffhanger. I am so anxious for the sequel (this is intended to be a trilogy) and my only reservation is that I can't imagine how it will live up to my experience with this book. But, I can't complain that I will get more time in this world with these characters.
Bottomline: This book is probably not for everyone, but I loved it so much that I can't help but recommend it wholeheartedly to everyone. It's a strange, odd, sometimes creepy, but very beautiful and emotional ride that's worth every minute in my opinion. So give it a shot.  I personally can't wait for the next book – I will definitely be buying it the second I can.