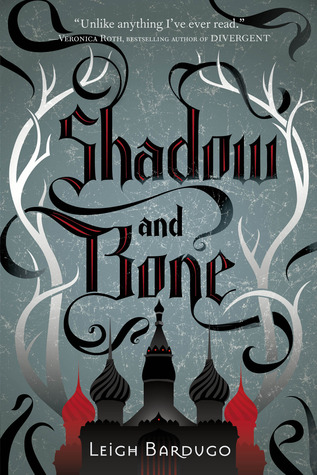 What I'd Pay: $14
To sum it up: A young female mapmaker in the army finds out she has incredible magic powers and is sent to be professionally trained as a summoner to fight in the war.
This is such a great fantasy book!
It starts off with the main character and her childhood friend being sent off with a bunch of troops to try and cross the Shadow Fold, a magical barren area where there is only darkness and terrifying flying monsters that eat people. The Fold cuts across the middle of the country, so people try and cross it frequently despite the dangers for trading purposes. While attempting to cross the Fold, they are attacked and our main character passes out while trying to defend her buddy. When she comes to, she is dragged in front of the intimidating Darkling, the head of the magic-users, who tests her for magic abilities. It turns out she has the rare ability to summon light, which could get rid of the Fold forever. She is whisked away to be trained to use her magic and gets involved in lots of intrigue along the way. This book is mostly about the main character finding herself, increasing her magic abilities, and discovering the truth about why the Fold exists and who she can trust. She's a strong, smart female character and it's wonderful to see her work through her emotional stumbling blocks to become a true bad-ass by the end of the book. She's smart enough to realize her mistakes before it's too late and brave enough to do the scary things that need to be done all on her own. I was rooting for her the entire time, and once she finally reaches the point when she can stand up for herself and fight back – the rest of the book gets very action-filled and suspenseful. There is a romantic element to the book, but it isn't really the main point of the book and mostly contributes to character-development overall. The description of the Fold and the explanation of the monsters was well done, and though I wasn't expecting big twists at the end, there were a few little surprises. I was very happy with where the tale stopped for now as it gave some closure and set up the next installment nicely. Ultimately, the story and world-building is great and I'm excited to pick up the next in the series.
Bottomline: A great fantasy read with a strong female lead, creepy monsters, magical powers, action, romance, and suspense. it was well-written, the world was interesting, and I can't wait to read the next one in the series. Got this ebook from the LA library after a short wait.