Today is the first installment of our Round Robin Guest Posts!
Mel from Reviews in a Pinch, Krystal from Books Are My Thing, and I are each going to review a book for a guest post on each other's blogs. We are going to do this twice so we each post on each other's blogs once. For this first round, we chose the theme of "Stephen King Books" and each chose a book by Mr. King that we hadn't read. Mel chose Firestarter, Krystal chose Doctor Sleep, and I chose The Eyes of the Dragon. Check out all the reviews by clicking on the links to the blogs above. We'll have a second round of reviews for you soon, so stay tuned!
… and here's Krystal!
Hey everyone!  My name is BookJunkieKrystal, and I blog over at Books Are My Thing.  I post a little bit of everything bookish, but tend to really enjoy reading YA, Sci-Fi, and Fantasy.  I am thrilled to be a guest today at No Money 4 Books!
Today I'm reviewing Doctor Sleep by Stephen King, which is the sequel to The Shining.  The Shining is probably my favorite "old school" SK book!  I bought Doctor Sleep in hardback for ridiculously cheap the day after Christmas (A GREAT time for book deals, might I add!), and it's been mocking me from my Stephen King shelf ever since I reread The Shining in February.  Yes, I have a shelf dedicated to SK! Anyway, when we decided to swap guests posts with Stephen King novels, I just KNEW it was time I read Doctor Sleep.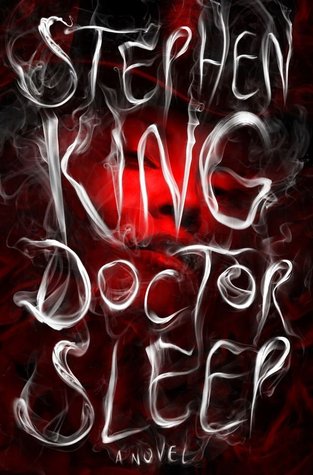 Ever wonder what happened to Danny after he escaped the horrors of the Overlook Hotel at the end of The Shining? Doctor Sleep tells you just that.  You know SK must of had this lingering thought rolling around in his brain for over 30 years, and finally decided to put it on paper.  Anyway, the book starts out explaining life shortly after leaving the Outlook.  Flash forward and Danny (Dan Torrance these days) is suddenly an adult, ironically following in his trainwreck of a father's footsteps.  He travels to the town of Frazier and decides it's time to start setting his life straight.  And that's when things get interesting.
The best part about this book is that it's a story within a story.  Yeah, it's about Dan getting his life straight, accepting the demons of the Overlook Hotel that he's been living with for years, and learning to use his shining for a good purpose (insert his nickname, "Doctor Sleep").  But there's also Abra Stone, a special girl who's got more talent than Dan ever had, even when he was a child.  That talent is what attracts the True Knot, and Dan scrambles to help Abra escape them before they steal her steam.
King always floors me in his abilities to create paranormal beings that never quite fit the typical molds, and the True Knot is another example.  King uses real-life past events to help paint a picture of the True Knot, sucking up the life force of people as they die.  The "special" children are the ones they really want, because their life force is of particular sweetness.  I mean, how unlike the typical vampire is that??  So cool.
I also really loved all the mentions of The Shining.  I mean yeah, it's the background to Doctor Sleep, but there are so many small little things that you could easily miss.  King really did his due diligence to show some respect for the book while still telling the story of Doctor Sleep.  I am SO glad I reread the book recently, because I think I would have missed some of the references otherwise.
If there is anything I didn't like about the book, it's that the shining possibilities seemed to endlessly grow and grow.  In The Shining, it was all about reading thoughts and sensing beings.  I agree that King had to of course expand what all the shining entailed, especially given that Abra was more talented than Danny.  But it bothered me just a small bit that as the book progressed, the shining abilities got seemingly more and more extravagant in order to make the plot work.
All in all, I LOVED Doctor Sleep.  King proves he's still great at "balls to the wall, keep the lights on horror", as he so eloquently put it on his website.  There was even a point where a plot twist happened and I exclaimed out loud, "WHAT THE F*** JUST HAPPENED?!?!".  Thankfully I was in the car with my fiance at the time, so it was only him that I had to explain myself to, haha!  If you are a lover of paranormal, horror, Stephen King, and/or especially The Shining, I definitely think you will love this book.