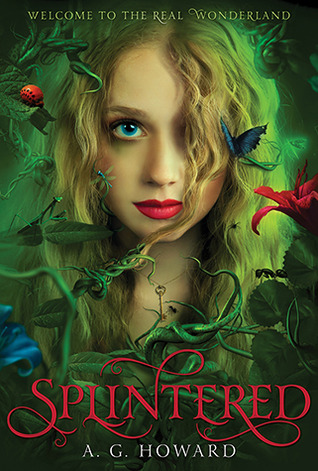 What I'd Pay: $12 (~4 stars)
To sum it up: The female descendants of Alice are cursed with madness until one teenage girl makes it back to Wonderland and tries to right Alice's wrongs.
This was a great book. I won't dwell too much on the plot itself for fear of spoilers, but rather the features of the book that made it so enjoyable.
First of all, the premise is an interesting and fun twist on the Alice in Wonderland tale, set years after the original events. Second, it is well-written, exciting, and the plot moves along rapidly with lots of action. Third, the characters are fascinating and complicated and the setting is as colorful and magical as you'd expect from Wonderland. Finally, the book itself provides a single, complete story that leaves room for a sequel but still offers a satisfying ending. What more can you ask for right? There's also some romantic tension between various characters, though it avoids a full-fledged love triangle. And there's even a plot twist I did not see coming – awesome!
Bottomline: This is a super short review because the book had everything I want from a book (listed above) and the summary on Goodreads really gives an accurate impression of what this book is about. For those who haven't read Alice in Wonderland: I haven't read that classic either, but I knew enough of the story from the children's movie that I understood the references in this book. They are explained pretty well even for those who are not familiar with the events of the original Alice in Wonderland story. The second book is currently out and the only thing keeping me from buying it right this minute is the fact that the third book is not yet out (January 2015) and I want to read binge-read them all at once.